It Was On A Morning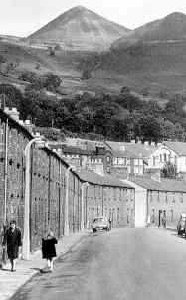 It was sunny on the mountain but foggy in the village on the morning that the small Welsh community of Aberfan was changed forever.
At 9.15 am on Friday, 21st October, 1966, tragedy struck when a waste tip slid down a mountainside into the mining village. It first destroyed a farm cottage in its path, killing all the occupants. At Pantglas Junior School, just below, the children had just returned to their classes after singing "All Things Bright and Beautiful" at their assembly.
The tipping gang up the mountain had seen the slide start, but could not raise the alarm because their telephone cable had been repeatedly stolen. (The Tribunal of Inquiry later established that the disaster happened so quickly that a telephone warning would not have saved lives.) Down in the village, nobody saw anything, but everybody heard the noise.
The slide engulfed the school and about 20 houses in the village before coming to rest.144 people died in the Aberfan disaster: 116 of them were school children. About half of the children at Pantglas Junior School, and five of their teachers, were killed.
So horrifying was the disaster that everybody wanted to do something. Hundreds of people stopped what they were doing, threw a shovel in the car, and drove to Aberfan to try and help with the rescue. It was futile; the untrained rescuers merely got in the way of the trained rescue teams. Nobody was rescued alive after 11am on the day of the disaster, but it was nearly a week before all the bodies were recovered.